From Saturday, May 13 to Monday, July 31, 2006, I walked (and drove, when my ankles gave out and I couldn't bear walking any more) from Omaha, Nebraska to Harrisonburg, Virginia: a distance of 1150 miles. The journey occupied 80 days, during which I did a lot of worship as I walked, and during which, also, I met and consulted with Friends (Quakers) in many communities along my route.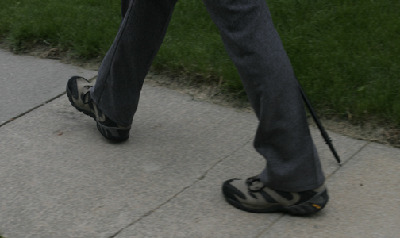 My destination was Baltimore Yearly Meeting, an annual gathering of Friends from Maryland, Virginia, parts of Pennsylvania, and Washington, D.C.

There, on August 5, I was a keynote speaker, addressing the yearly meeting on the difficult and divisive topic of how we human beings, as children of God, can live in harmony with all of God's Creation.

What I said to Baltimore Yearly Meeting was what had been given to me along the way. One might say this was a spiritual experiment. Did it succeed? It's still too soon to say.

You can see how my journey unfolded, and what came out of it, and talk with me about it, by visiting my blog site at http://journal.earthwitness.org.